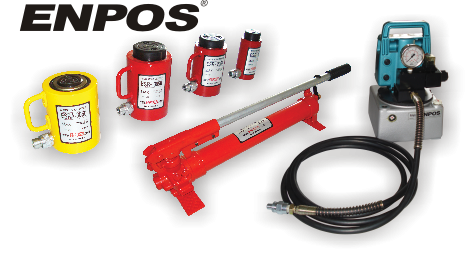 Enpos Hydraulic Equipment Line – New Flutrol exclusive representation!

Flutrol launches another innovation, the exclusive representation of the Korean brand Enpos, ISO 9001 certified and renowned in the segment of ​​hydraulic technologies. Increasingly complete solutions to meet the demands of hydraulic equipment!

Hydraulic pumps with electric motors: 1/3, 1/2, 1, 2 and 3 HP. Pressure up to 700 kg/cm2 tanks from 0.8 up to 20l. Supply voltage of 220v.

Manual Pumps: 11 basic models, pressures from 700 to 1,500 kg/cm2; tanks from 300 ml up to 10L.

Hydraulic Cylinders: Various pressure models up to 700 kg/cm2.

Simple Action: displacement from 50 to 200mm; Double-action: displacements from 50 to 500mm;

Compact version: displacements from 35 to 50mm;
With central hole: displacements from 40 to 250mm;
In Aluminum with half the weight: displacements of 50 to 150mm;
Handle type: displacements from 130 to 150mm; capacity from 5 to 50 tons;
Low Profile: displacements from 10 to 15mm;
Ultralow: displacements from 5 to 20mm and pressure up to 2,000 kg/cm2.

Hydraulic Cylinders: Various models, weights and sizes, pressures up to 2,000 kg/cm2 and ranges of varied minimum displacements of 5 to 20 mm and maximum of 50 to 500 mm.