Flutrol is a 100% Brazilian company totally dedicated to the production of advanced solutions in fluid control. It manufactures hydraulic and pneumatic pressure generation equipment and is the exclusive authorized distributor for Brazil of the most renowned and reputed international companies. It has the most complete line of equipment and components for all pressure ranges.
Its staff is formed by highly trained team with a high level of accumulated experience, which is always ready to meet the great challenges that lead to high pressure solutions! In all product lines, Flutrol's training is currently developed and integrated for engineering and applications, project specification and detailing and startup, assembly, training, technical support and ongoing maintenance, all at any point in Brazil.
Flutrol's commitment and focus is to develop complete solutions that contribute to reducing energy consumption and increasing productivity, generating opportunities that make the difference for each customer, at a moment when the Brazilian industry is developing and growing.




OUR STRUCTURE
We have a team consisting of 110 employees divided between our headquarters in São Paulo and three subsidiaries: Rio de Janeiro, Macaé and Vitória.
Flutrol concentrates all its manufacturing activity at its headquarters with a 2,500 m2 plant in the city of São Paulo and operates with 80 employees. It is at our headquarters that we develop and build all the projects and equipment we supply.
At our branch in Rio de Janeiro, we perform repairs, leasing, maintenance contracts, small assemblies and sales for the entire state of Rio de Janeiro.
Our Macaé branch serves the north of the state of Rio de Janeiro and the maintenance contracts, repairs, leasing and minor assemblies; and it already has a team of employees specialized in working high pressure solutions. In 2012, Flutrol started its activities with a new subsidiary in the state of Espírito Santo, where in Vitória it provides maintenance contracts, minor repairs and sales.

MANUFACTURING AND DISTRIBUTION
Flutrol manufactures hydrostatic and pneumatic pressure generation equipment for various applications such as pressure testing, activation of devices, torque tools, flushing, fluid transfer, etc., and all this started from when Flutrol began distributing Haskel pumps and Butech valves that allowed the assembly of systems with competitive prices. For many years with a successful partnership, Flutrol exclusively distributes and represents the Haskel, Butech, Cat Pumps, Spir Star, Bornemann, Hamelmann, Barksdale and Enpos brands in Brazil.
WARRANTY
Flutrol is an ISO 9000 certified company, so from standards it guarantees quality assured products and services. Detecting opportunities in economically important segments and offering these products and services with qualities and prices that represent effective benefits to customers has created recognition and continuous growth for Flutrol in the Brazilian Market.
OUR MISSION​
Provide value solutions perceived by our customers, suppliers and society in general, aiming to satisfying all their needs and expectations, positively surprising them and gaining their trust and loyalty by continuously improving the effectiveness of innovative products, services and processes with very high quality at compatible prices.
HIGH PRESSURE
The vast majority of industrial processes involve testing and high pressure, manufacturing of valves, hoses, food, pumps and tubes, and Flutrol is specialized in high pressure, the manufacturing of equipment and distribution of components for virtually all pressure ranges used in almost every industry segment.
CHALLENGES​
The challenges at this moment of the Brazilian industry are great. The Pre-Salt oil layer gives us the opportunity of necessary developments for this new demand of the Brazilian market; challenges that are created by the need for new equipment, with more technology and automation, electronic controls and with greater precision.
Flutrol has always invested, and is now increasingly investing in the training and development of its employees and departments to meet this growing demand for integrated solutions that optimize processes and save time and energy.
MARKETS​
A leading presence High Pressure, Hydrostatic and pneumatic tests, control of fluids, gases or liquids, in the Chemical, Petrochemical, Automobile, Auto Parts Industries and Equipment for Oil and Gas, Food and Beverages. Applications:
Aerospace l Steelworks l Instrumentation l Gas Transfer l Pressure Test l Valve Actuation l Hydrostatic Tests l Automotive Industry l Hose Tests l Fluid Control l Waterjet Cutting Pressure l Valve Actuation l Waterjet Pressure l Chemical Injection l Tensioning l Oil Well Control l Bolt Torque l Flushing of Hydraulic Lines l Self-reinforcing l Pig Vertical Pressure l Paper and Pulp l Emergency Door Activation l Chemical Dosing l Petrochemicals l And much more..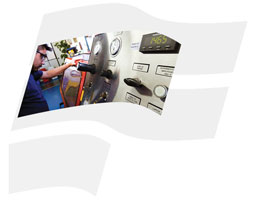 TECHNICAL SUPPORT
TEAM

Consisting of over 100 employees, Flutrol's technical staff is highly trained and capable of handling a wide range of challenges.

ON AND OFFSHORE

It offers technicians for On and Offshore services, rendering of services, repairs, maintenance, installations, specifications and much more.

SUPPORT

Our technical staff is highly trained and prepared to solve the most diverse and complex problems, which helps compose a team that has expertise in high pressure solutions.
SPECIFICATIONS
The products are specified by highly qualified professionals in the most diverse areas and applications of the markets where Flutrol operates. Each of the products is developed to meet specific markets and their particularities; to do so the engineering team works to develop solutions that meet specific Technical Specifications as well as for standard line products, which are versatile and meet numerous applications.
PERFORMANCE
The performance of Flutrol products contributes to better customer performance in their processes, delivering products from the most renowned international brands and properly engineered for each required and specified application. All suppliers of the production chain are evaluated and monitored in terms of quality, punctuality and trust.
PUNCTUALITY
Due to a large inventory of parts, components and repairs, Flutrol has as its main characteristic the lowest lead time in the market with great capacity to articulate continuous improvements of deadlines for engineered and repaired products.