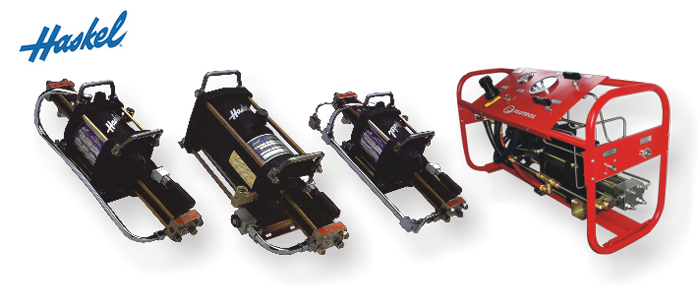 The Haskel Gas Booster is a perfect solution for applications that require gas amplification, pressure testing, gas transfers, injection and much more.

Powered by compressed air, it has the same operating principle as the hydropneumatic pumps, piston area ratio, multiplying the supply gas pressure. The Haskel Gas Booster has two gas inlets, one for the motor air and one for the gas to be multiplied.

Working Temperatures:
The Gas Boosters have two distinct sections, the motor air section and the gas sleeve section:

Motor Air Section:
They operated reliably at -4°C to + 65°C.
Gas Sleeve Section:
Maximum accepted average is 115°C.

Advantages:
. Powered by compressed air; does not require electricity;
. Does not require continuous lubrication;
. Free of Hydrocarbons - Separation between the Air and the Gas Section;
. Pressures up to 39,000 psi;
. Large variation of models;
. Built with refrigeration;
. Standard or custom systems;
. Suitable for most gases.

Haskel boosters are suitable for the following gases:
1. Nitrogen (N2)
2. Helium (He)
3. Breathable Air (N2O2)
4. Nitrous Oxide (N2O)
5. Carbon Dioxide (CO2)
6. Neon (Ne)
7. Argon (Ar)
8. Sulfur Hexafluoride (SF6)
9. Oxygen (O2) - Maximum Safe Working Pressure 345 BAR (5,000 PSI)*
10. Carbon monoxide (CO)*
11. Hydrogen (H2)*
12. Methane (CH4)*
13. Ethylene (C2H4)*
14. Deuterium (D2)*
15. Natural Gas (CH4) – Frequently contains a high proportion of CO2 and N2*

* For these gases (10-15) the booster should operate in a safe area with piped ventilation for environmental control.

Liquefied gases (Propane, CO2, etc.) can be pumped as gases or liquids in controlled applications.

Consult us for more specific information.

Haskel Boosters are excellent for flushing and can operate pure gases such as oxygen, without risk of contamination.

(For Special Flushing, consult us beforehand).